Twinblast
Twinblast is one of the Ranger Heroes in Paragon.
Abilities
Ability
Default Key
Ability Description
Affinity
On A Roll
Passive
Whenever Twinblast hits an enemy with an ability, they are marked with a crosshair Hitting the marked enemy with LMB will cause bonus damage to the enemy.
Double Shot
Twinblast fires his blasters, alternating hands with each shot when the button is held.
Physical Damage
Tumble
A quick directional dive used to reposition.
Nitro
Q
Passive: Twinblast passively enjoys increased attack speed.

Active: Activating this ability boost his attack speed bonus, and marks any enemy target that is shot during this timeframe. Twinblast loses his passive boost while the ability is on cooldown.

Leveling this ability increases the passive attack speed boost.
Physical Damage
Vortex Grenade
E
Twinblast fires a Vortex Grenade to a target location. After a short delay the grenade explodes dealing damage in the AoE and slowing enemies. Enemies hit are marked.
Barrage
R
Twinblast's guns transform into giant cannons which fire rocket salvos for a short time causing bonus damage & pierce through minions for however many shots you can get off during the duration.
In Game Items
Hero Videos
Hero Media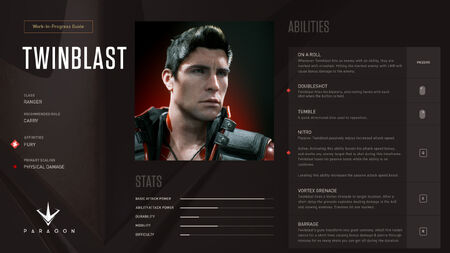 Heroes in Paragon

 

Caster
Ranger

Gadget

Gideon

Howitzer

Iggy & Scorch

GRIM.exe

Murdock

Sparrow

Twinblast
Assassin
Fighter
Support
Tank

Kallari

Feng Mao

Grux

Dekker

Muriel

Rampage

Steel

Sevarog